Podcast: Play in new window | Download
Subscribe: Apple Podcasts | RSS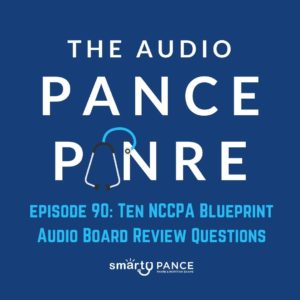 Welcome to episode 90 of the Audio PANCE and PANRE Physician Assistant/Associate Board Review Podcast.
Join me as I cover ten PANCE, PANRE and EOR review questions from the Smarty PANCE Instagram/Facebook page and the smartypance.com board review website.
Special from today's episode:
Below you will find an interactive exam to complement today's podcast.
The Audio PANCE/PANRE and EOR PA Board Review Podcast
I hope you enjoy this free audio component to the examination portion of this site. The full board review course includes over 2,000 interactive board review questions and is available to all members of Smarty PANCE.
Listen Carefully Then Take the Practice Exam
If you can't see the audio player, click here to listen to the full episode.
Podcast Episode 90: Ten PANCE/PANRE and EOR Blueprint Questions
1. A 32-year-old male presents with acute ascending symmetrical paralysis and diminished reflexes in his bilateral lower extremities. He has a history of bloody diarrhea a few days ago. What did he likely eat that led to his symptoms?
A. Uncooked rice
B. Mayonnaise
C. Uncooked chicken
D. Soft unpasteurized cheese
E. None of the above
2. Which of the following disorders is characterized by a scaly, rough erythematous patch that appears on sun-exposed areas?
A. Seborrheic keratosis
B. Keratosis pilaris
C. Actinic keratosis
D. Lichen planus
E. Pityriasis rosea
3. A 42-year-old male is admitted for typical pneumonia. He is given IV azithromycin and ceftriaxone. His QT interval becomes prolonged and he develops a polymorphic ventricular tachycardia. Which of the following is the most appropriate pharmacological management?
A. Intravenous calcium gluconate
B. Intravenous magnesium sulfate
C. Intramuscular epinephrine
D. Oral amiodarone
E. Oral procainamide
4. Which of the following is true about an indirect inguinal hernia?
A. It does not usually enter the scrotum
B. It is caused by a patent processus vaginalis
C. The strangulation risk is lower than a direct inguinal hernia
D. It is the least common type of inguinal hernia overall
E. It is medial to the inferior epigastric vessels
5. Which of the following is the most common cause of death in hemochromatosis?
A. Hepatocellular carcinoma
B. Diabetic-related complications
C. Acute respiratory failure
D. Left ventricular failure
E. Pancreatic cancer
6. A 15-year-old female with no medical history presents to the ER with altered mental status. She is tachycardic. Labs reveal a glucose level of 900 mg/dL and elevated beta-hydroxybutyric acid. Which of the following acid-base issues would you expect to see?
A. Normal anion gap metabolic acidosis
B. High anion gap metabolic acidosis
C. Metabolic alkalosis
D. Respiratory alkalosis
E. Respiratory acidosis
7. Which of the following is the first-line treatment for nasal polyps in patients with chronic rhinosinusitis?
A. Anti-histamines
B. Intranasal steroids
C. Leukotriene inhibitors
D. Beta-agonists
E. None of the above
8. A 52-year-old female with a history of mitral valve regurgitation presents with exertional dyspnea. On physical exam, you notice abdominal swelling and lower extremity edema. You suspect pulmonary hypertension (PH). Which of the following is the gold standard for diagnosing PH?
A. Right heart catheterization
B. Chest radiograph
C. Computed tomography angiography
D. Echocardiogram
E. Polysomnography
9. A 72-year-old female smoker with a history of atrial fibrillation presents to the ER with severe abdominal pain for a few hours. Vitals are unremarkable. Physical exam reveals nothing significant. Which of the following is the gold standard diagnostic modality for the most likely diagnosis?
A. Computer tomography scan
B. Right upper quadrant ultrasound
C. Abdominal radiographs
D. Mesenteric angiography
E. None of the above
10. Orbital cellulitis most commonly occurs when an infection spreads into the orbit from which sinus?
A. Maxillary sinus
B. Frontal sinus
C. Sphenoid sinus
D. Ethmoid sinus
E. Temporal sinus
Looking for all the podcast episodes?
This FREE podcast series is limited to every other episode, you can download and enjoy the complete audio series by becoming a Smarty PANCE member.
I will be releasing new episodes every few weeks. Smarty PANCE is now discounted, so sign up now before it's too late!
Resources and Links from the Show
This Podcast is available on iOS and Android

Download the Interactive Content Blueprint Checklist
Follow this link to download your FREE copy of the PANCE/PANRE/EOR Content Blueprint Checklists
Print it up and start crossing out the topics you understand, marking the ones you don't, and making notes of key terms you should remember. The PDF version is interactive and linked directly to the individual lessons on Smarty PANCE.