Podcast: Play in new window | Download
Subscribe: Apple Podcasts | RSS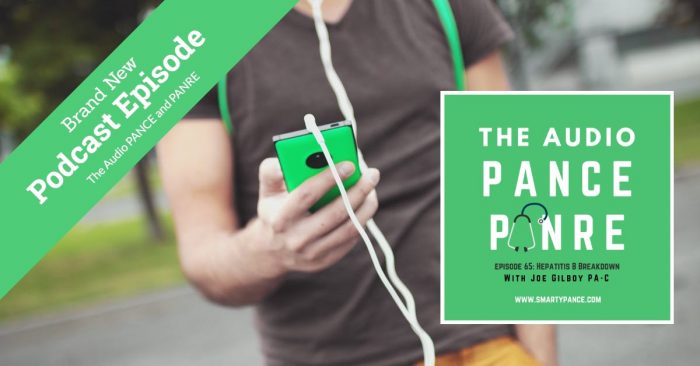 NCCPA™ PANCE Content Blueprint – The ABC's of Hepatitis +The Hepatitis B Breakdown
Welcome to episode 65 of the Audio PANCE and PANRE PA Board Review Podcast.
In today's episode, I welcome my friend, exclusive smartypance lecturer, and PA board review extraordinaire Joe Gilboy PA-C who will be breaking down Hepatitis B as you've never seen it before.
This is a recorded lecture featured on my smartypance.com board review website covering Hepatitis A, B, and C testing with twelve follow up questions at the end.
Below you will find an interactive exam to complement the podcast.
I hope you enjoy this free audio component to the examination portion of the site. The full board review covers the entire NCCPA Content Blueprint, all indexed, searchable, and now available with Joe's Gilboy's priceless lectures.
To top it off you can sign up today for the free 60-day board review email series which includes Joe's audio explanations.
If you enjoyed this podcast episode:
Listen Carefully Then Take The Practice Exam
If you can't see the audio player click here to listen to the full episode.
Podcast Episode 65: Hepatitis PANCE/PANRE Podcast Quiz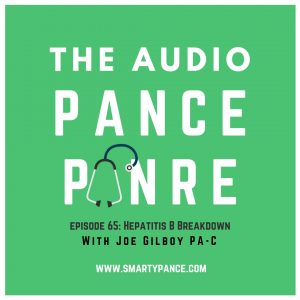 The following questions are linked to NCCPA Content Blueprint lessons from the SMARTYPANCE & PANRE Board Review Website. If you are a member you will be able to log in and view this interactive video lesson.
1. A patient presents wanting to be tested to see if they presently have Hepatitis A which labs would you order?
a. Anti-HAV (IgG)
b. Anti-HAV (IgA)
c. Anti-HAV (IgM)
d. Anti-HAV (IgE)
2. Which lab result would a PA and an IV drug abuser both have that are positive?
a. Anti-HBs
b. Anti-HBe
c. Anti-HBc
d. HBeAg
3. Which positive lab tells you a person is currently actively infected with hepatitis B?
a. HBsAg
b. HBsAb
c. HBcAg
d. HBeAg
4. Which of the following lab result would a chronic hepatitis B patient have that is positive?
a. HBsAg
b. HBsAb
c. HBcAg
d. HBeAg
5. Immunoglobulin is given within two weeks for family members and close contacts when they are exposed to hepatitis A. Which immunoglobulin is given?
a. IgM
b. IgG
c. IgA
d. IgE
6. Hepatitis D needs what part of hepatitis B to exist?
a. HBsAg
b. HBsAb
c. HBcAg
d. HBeAg
7. Hepatitis E is transmitted by which vector?
a. IV drug abuse
b. Homosexual sex
c. Fecal-oral
d. Blood transfusion
8. What is the 1st evidence of infection with hepatitis B?
a. HBcAg
b. HBeAg
c. Anti-HBs
d. HBsAg
9. What is the lab test to indicate a diagnosis of acute hepatitis B?
a. Anti-HBs
b. Anti-HBe
c. Anti-HBc
d. HBeAg
10. What is the lab test that indicates viral replication and infectious Hepatitis B?
a. HBcAg
b. HBeAg
c. Anti-HBs
d. HBsAg
11. Which of the following is the first sign of a patient with an elevated conjugated bilirubin (direct)?
a. Icteric sclera
b. Jaundice
c. Acholic stool
d. Tea-colored urine
12. A 52-yo male with upper abdominal pain and an elevated aminotransferase(AST) >10,000 u/l is consistent with which problem?
a. Gallstones
b. Alcoholic liver disease
c. Bile duct stones
d. Viral Hepatitis
Looking for all the podcast episodes?
This FREE series is limited to every other episode, you can download and enjoy the complete audio series by joining The PANCE and PANRE Exam Academy + SMARTYPANCE
I will be releasing new episodes every few weeks. The Academy is discounted, so sign up now.
Resources and Links From The Show

This Podcast is also available on iTunes and Stitcher Radio for Android
Stitcher Radio: The Audio PANCE and PANRE Podcast Stitcher

Download The Content Blueprint Checklist
Follow this link to download your FREE copy of the Content Blueprint Checklist
Print it up and start crossing out the topics you understand, marking the ones you don't and making notes of key terms you should remember. The PDF version is interactive and linked directly to the individual lessons on SMARTY PANCE.