Podcast: Play in new window | Download
Subscribe: Apple Podcasts | RSS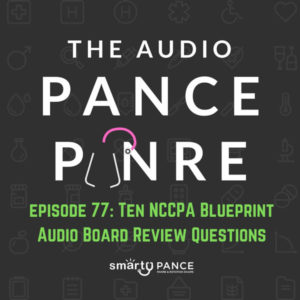 Welcome to episode 77 of the Audio PANCE and PANRE PA Board Review Podcast.
Join me as I cover ten PANCE and PANRE Board review questions from the Smarty PANCE course content following the NCCPA™ content blueprint (download the FREE cheat sheet).
Special from today's episode:
This week we will be covering ten general board review questions based on the NCCPA PANCE and PANRE Content Blueprints.
Below you will find an interactive exam to complement the podcast.
The Audio PANCE and PANRE Physician Assistant Board Review Podcast
I hope you enjoy this free audio component to the examination portion of this site. The full board review includes over 2,000 interactive board review questions and is available to all members of the PANCE and PANRE Academy and Smarty PANCE.
Listen Carefully Then Take The Practice Exam
If you can't see the audio player click here to listen to the full episode.
Podcast Episode 77: Ten Question PANCE and PANRE Podcast Quiz
The following questions are linked to NCCPA Content Blueprint lessons from the Smarty PANCE and PANRE Board Review Website. If you are a member you will be able to log in and view this interactive video lesson.
1. A 10-month-old girl was admitted to the hospital for cardiac catheterization. Her history included cyanosis noted at about 6 weeks of age, increasing over the last 7 months and becoming more severe with crying or physical activity. The chest x-ray demonstrates a "boot-shaped heart." A presumptive diagnosis of tetralogy of Fallot (TOF) was made on admission. TOF has 4 components, which of the following below is NOT PART of the diagnosis?
A. Pulmonary valve stenosis
B. VSD
C. Overriding aorta
D. Right ventricular hypertrophy
E. ASD
2. A 65-year-old man presents with pain in his right knee. He says he fell and "banged it up fairly bad" approximately 6 months ago but that it had since recovered spontaneously and provided no further trouble until now. On examination, his temperature is 37.5 °C and his blood pressure is 125/70 mm Hg. He has an inflamed, tender, swollen right knee. No other joints are affected. No other abnormalities are found on physical examination. A plain radiographic examination of the right knee reveals streaking of the surrounding soft tissue with calcium deposits (chondrocalcinosis). What is the definitive diagnostic test of choice for this patient's disease
A. A plasma level
B. A random urine test
C. A 24-hour urine
D. A synovial fluid analysis
E. Gram stain plus culture and sensitivity
3. What is (are) the major difference(s) between polymyalgia rheumatica (PMR) and polymyositis?
A. Marked proximal muscle weakness in polymyositis
B. Marked proximal muscle tenderness in polymyositis
C. Elevated muscle enzymes such as creatine kinase (CK) in polymyositis
D. a, b, and c
4. Clinical features of botulism include all of the following except
A. Paresthesia
B. Dysphagia
C. Diplopia
D. Fixed/dilated pupils
5. A 59-year-old male complains of "flashing lights behind my eye" followed by a sudden loss of vision, stating that it was "like a curtain across my eye." He denies trauma. He takes Glucophage for his diabetes mellitus and atenolol for his hypertension. He has no other complaints. On the fundoscopic exam, the retina appears to be out of focus. Which of the following is the most likely diagnosis?
A. Central retinal vein occlusion
B. Retinal artery occlusion
C. Retinal detachment
D. Hyphema
6. The first dose of the combined vaccine of measles, mumps, and rubella (MMR) is usually given at age
A. 12 months
B. 6 weeks
C. Birth
D. 9 months
7. A 28-year old sub-fertile woman presents to you on account of dysmenorrhea, deep dyspareunia, dyschezia, and pelvic pain of a few months' duration. Physical examination revealed nodularity of the uterosacral ligaments, tenderness in the pouch of Douglas, and a fixed retroverted uterus with positive cervical excitation tenderness. What is the most likely diagnosis?
A. Endometriosis
B. Pelvic inflammatory disease
C. Adenomyosis
D. Uterine leiomyoma
The diagnosis is generally made by
A. Detection of increased estrogen levels
B. Endometrial biopsy
C. Pelvic ultrasound
D. Laparoscopy
E. CT of the pelvis
8. A 45-year-old obese Caucasian gentleman arrives at your clinic for a routine check-up after having some blood work done during a workplace health screening. He is found to have an LDL cholesterol level of 550 mg/dL. He states that his father and brother had high cholesterol and both died at a young age from a heart attack. He has a follow-up appointment with his cardiologist because of some occasional chest pain and abnormalities seen on his EKG. Additionally, you notice that he has well-demarcated yellow deposits around his eyes. He is started on high dose statin and his LDL at 12 weeks is 350 mg/dL. What is the next best step in this patient's management?
A. Continue high dose statin, the patient's LDL is at goal
B. Add niacin 100 mg three times daily
C. Add ezetimibe (Zetia) 10 mg daily
D. Add a PCSK9 inhibitor
E. Refer to a lipid specialist
9. What best describes the time that preeclampsia is commonly seen?
A. Before 18 weeks of pregnancy
B. After 18 weeks of pregnancy
C. After 16 weeks of pregnancy
D. After 20 weeks of pregnancy
E. Before 12 weeks of pregnancy
10. A 36-year-old male who is hospitalized because of severe injuries from a motor vehicle accident develops a rapid onset of profound dyspnea. The initial chest x-ray shows a normal heart size with diffuse bilateral infiltrates. A follow-up chest x-ray shows confluent bilateral infiltrates that spare the costophrenic angles. Which of the following is the best clinical intervention for this patient?
A. Tracheal intubation
B. Bilateral chest tube insertion
C. Type-specific packed cells
D. Colloid solutions
E. Provide supplemental oxygen
Looking for all the podcast episodes?
This FREE series is limited to every other episode, you can download and enjoy the complete audio series by joining The PANCE and PANRE Exam Academy + SMARTYPANCE
I will be releasing new episodes every few weeks. The Academy is discounted, so sign up now.
Resources and Links From The Show
This Podcast is also available on iOS and Android
Stitcher Radio: The Audio PANCE and PANRE Podcast Stitcher
Google Play: The Audio PANCE and PANRE Podcast Google Play

Download The Content Blueprint Checklist
Follow this link to download your FREE copy of the Content Blueprint Checklist
Print it up and start crossing out the topics you understand, marking the ones you don't and making notes of key terms you should remember. The PDF version is interactive and linked directly to the individual lessons on SMARTY PANCE.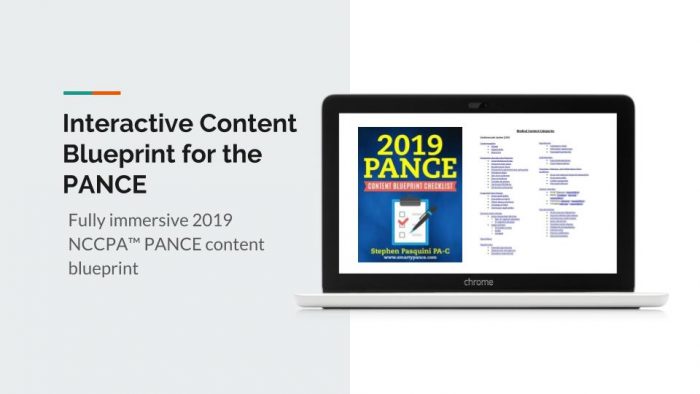 Download for PANCE Download for PANRE