Podcast: Play in new window | Download
Subscribe: Apple Podcasts | RSS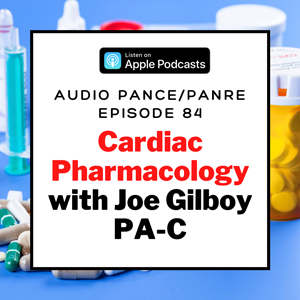 Welcome to episode 84 of the Audio PANCE and PANRE PA Board Review Podcast
Today we welcome back PA board review expert Joe Gilboy PA-C as he covers the exceptionally important topic of cardiac pharmacology.
Below you will find a downloadable audio version of this podcast as well as links to resources mentioned in today's episode. Members of Smarty PANCE can sign in and listen to the second half of Joe's lecture as well as part two of this high-yield cardiac pharmacology lecture series by clicking here.
Not a Smarty PANCE member? You can gain instant access to this lecture as well as all the Smarty PANCE resources instantly by clicking here.
From today's episode:
To listen to the second half of this lecture as well as cardiac pharmacology part 2 with Joe Gilboy sign in to Smarty PANCE then click here.
Listen to Joe's previous podcast episodes:
The Audio PANCE and PANRE Board Review Podcast Episode 84: Cardiac Pharmacology
I hope you enjoy this free audio component to the examination portion of this site. The full board review course includes over 2,000 interactive board review questions and is available to all members of the PANCE and PANRE Academy and Smarty PANCE.
If you can't see the audio player click here to listen to the full episode.
Looking for all the podcast episodes?
This FREE podcast series is often limited to every other episode, you can download and enjoy the complete audio series by becoming a Smarty PANCE member.
Additional Resources
This Podcast is available on all platforms
Just search for "The Audio PANCE and PANRE" in your favorite podcasting program or use the following links.
Download The Content Blueprint Checklist
Follow this link to download your FREE copy of the PANCE Content Blueprint Checklist
Print it up and start crossing out the topics you understand, marking the ones you don't, and making notes of key terms you should remember. The PDF version is interactive and linked directly to the individual lessons on Smarty PANCE.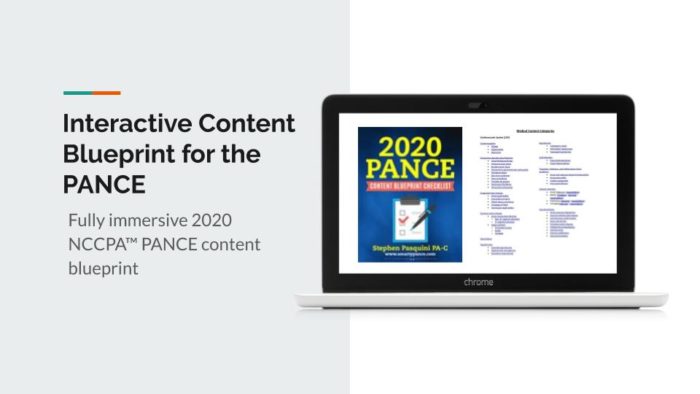 Download for PANCE Download for PANRE