Podcast: Play in new window | Download
Subscribe: Apple Podcasts | RSS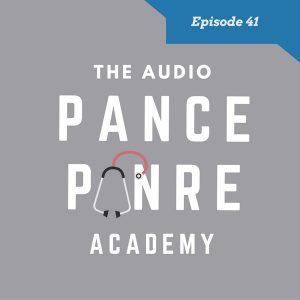 Welcome to episode 41 of the FREE Audio PANCE and PANRE Physician Assistant Board Review Podcast.
Join me as I cover 10 PANCE and PANRE board review questions from the Academy course content following the NCCPA™ content blueprint.
This week we will be taking a break from topic specific board review and covering 10 general board review questions.
Below you will find an interactive exam to complement the podcast.
I hope you enjoy this free audio component to the examination portion of this site. The full genitourinary board review includes over 72 GU specific questions and is available to all members of the PANCE and PANRE Academy.
You can download and listen to past FREE episodes here, on iTunes or Stitcher Radio.
You can listen to the latest episode, take an interactive quiz and download your results below.
Listen Carefully Then Take The Quiz
If you can't see the audio player click here to listen to the full episode.
Episode 41 PANCE and PANRE Podcast Quiz
1. A mother brings her 6-year-old boy for evaluation of school behavior problems. She says the teacher told her that the boy does not pay attention in class, that he gets up and runs around the room when the rest of the children are listening to a story, and that he seems to be easily distracted by events outside or in the hall. He refuses to remain in his seat during class, and occasionally sits under his desk or crawls around under a table. The teacher told the mother this behavior is interfering with the child's ability to function in the classroom and to learn. The mother states that she has noticed some of these behaviors at home, including his inability to watch his favorite cartoon program all the way through. Which of the following is the most likely diagnosis?
Antisocial disorder
Dysthymic mood disorder
Obsessive-compulsive disorder
Attention deficit hyperactivity disorder
2. Which of the following is the treatment of choice for a torus (buckle) fracture involving the distal radius?
A. Open reduction and internal fixation
B. Ace wrap or anterior splinting
C. Closed reduction and casting
D. Corticosteroid injection followed by splinting
3. Which of the following can be used to treat chronic bacterial prostatitis?
A. Penicillin
B. Cephalexin (Keflex)
C. Nitrofurantoin (Macrobid)
D. Levofloxacin (Levaquin)
4. A 25 year-old male with history of syncope presents for evaluation. The patient admits to intermittent episodes of rapid heart beating that resolve spontaneously. 12 Lead EKG shows delta waves and a short PR interval. Which of the following is the treatment of choice in this patient?
A. Radiofrequency catheter ablation
B. Verapamil (Calan)
C. Percutaneous coronary intervention
D. Digoxin (Lanoxin)
5. Which of the following pathophysiological processes is associated with chronic bronchitis?
A. Destruction of the lung parenchyma
B. Mucous gland enlargement and goblet cell hyperplasia
C. Smooth muscle hypertrophy in the large airways
D. Increased mucus adhesion secondary to reduction in the salt and water content of the mucus
6. Which of the following dietary substances interact with monoamine oxidase-inhibitor antidepressant drugs?
A. Lysine
B. Glycine
C. Tyramine
D. Phenylalanine
7. Gallstones usually result in biliary symptoms by causing inflammation or obstruction following migration into the common bile duct or
A. cystic duct
B. pancreatic duct
C. duodenal ampulla
D. common hepatic duct
8. An elderly patient with poorly-controlled Type 2 diabetes and renal disease develops a fever of 102°F orally, productive cough, and dyspnea. Physical examination demonstrates a respiratory rate of 32/min, labored breathing, and rales at the left base. Pulse oximetry is 90%. Which of the following is the next appropriate step in the management of this patient?
A. Administer nebulized corticosteroids
B. Admit to the hospital
C. Oral antimicrobial therapy
D. Endotracheal intubation
9. A 53 year-old female who is well known to the practice presents to the office complaining of increasing fatigue, constipation, and a weight gain of 10 lb (4.5 kg) over the past year. She also states others have noticed a recent hoarseness to her voice, and she is bothered by "charley horses" in her legs that wake her up at night. Her past medical history is unremarkable except for a history of hyperthyroidism treated by radioactive iodine 5 years ago. She is currently taking no medications and has no known drug allergies. Which of the following is the most likely cause of the patient's symptoms?
A. Hypothyroidism
B. Hypoparathyroidism
C. Vocal cord paralysis
D. Radiation thyroiditis
10. Which of the following is most frequently associated with bladder cancer?
A. Hematuria
B. Dysuria
C. Urgency
D. Frequency
Looking for all the podcast episodes?
This FREE series is limited to every other episode, you can download and enjoy the complete audio series by joining The PANCE and PANRE Exam Academy.
I will be releasing new episodes every few weeks. The Academy is discounted, so sign up now.
Get ReelDx at 40% off!
I am so excited to be introducing ReelDx cases into my new SmartyPANCE board review website. This is a $99 value now included to all registered SmartyPANCE users. If you are just interested in access to the ReelDx cases through their website as a listener of this podcast you can get 40% off a one year subscription by entering the code "ThePALife" at checkout:
Resources From The Show
This Podcast is also available on iTunes and Stitcher Radio for Android
Stitcher Radio: The Audio PANCE and PANRE Podcast Stitcher